Itsushi Narumi

Itsushi with Ninufa
Information
Name
Itsushi Narumi
Mage Ranking
Ex-apprentice of Schwartz
Disguise
School Librarian
Gender
Male
Hair Colour
Blonde / White
Manga Debut
Punishment 1
Itsushi Narumi
is the Classics teacher in Anis's school, located at a basement library. He was the one who explained to Anis everything about being the Rose Princess. His pet is
Ninufa
.
Personality
Edit
He is often seen talking or scolding Ninufa only. Itsushi does not look like a mage, more of a school librarian. He seems to be scared easily, not daring to go against his former teacher, Schwartz Yamamoto.
Appearance
Edit
His outfit is made up of a cloak, shirt, tie, office pants, and a pair of spectacles. It has been noted that Itsushi keeps his bed hair.
Storyline
Edit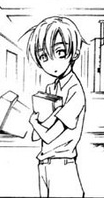 He was formerly a apprentice of Schwartz. He now a classics teacher at Anis's school.
Ad blocker interference detected!
Wikia is a free-to-use site that makes money from advertising. We have a modified experience for viewers using ad blockers

Wikia is not accessible if you've made further modifications. Remove the custom ad blocker rule(s) and the page will load as expected.