Punishment 36, or Thanatos, is the thirty sixth chapter of Aya Shouoto's Barajou No Kiss.
Quick Summary
Edit
Mutsuki, has finally seased his brother by putting sealing him within his body, and has his second awakeing with Anis'. Anis still in the tower, her father revels to her that he is the Silver Rose.
Long Summary
Edit
Yocteau (Mizuki's brother) comes to terms that the craving he has had was not for destruction but for his brother. The chapter shows his coming about to be the monster that drove him to his end. Yocteau heartfully asks his brother to end him while hes in his right mind. Mizuki calls on Anis for strength and his 2nd awakening happpens. Mizuki seals Yocteau in his brother. In the tower, Schwartz revels to Anis that he is the silver rose.
Characters
Edit
In order of appearance: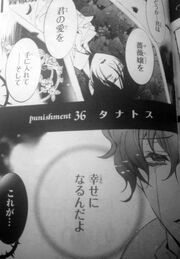 Ad blocker interference detected!
Wikia is a free-to-use site that makes money from advertising. We have a modified experience for viewers using ad blockers

Wikia is not accessible if you've made further modifications. Remove the custom ad blocker rule(s) and the page will load as expected.