Punishment 37, or The Secret Garden, is the thirty seventh chapter of Aya Shouoto's Barajou No Kiss.
Quick Summary
Edit
Schwatrz past is revealed, explaining why he is a Rose Knight, Anis's birth and possible family relationships. Upon the Yellow Rose Rhode Knight's warning, Anis, Kaede, Seiran and Mutsuki decides to pay a visit to Mitsuru's house.
Long Summary
Edit
Characters
Edit
In order of appearance:
Anis's Mother
Young Schwartz
Anis's material family
Anis as a baby, toddler and child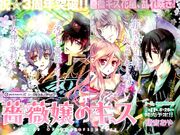 Ad blocker interference detected!
Wikia is a free-to-use site that makes money from advertising. We have a modified experience for viewers using ad blockers

Wikia is not accessible if you've made further modifications. Remove the custom ad blocker rule(s) and the page will load as expected.