So yeah, this is the first Barajou No Kiss blog. To start off, hi I am contribute a lot to this wiki and i just wanted to say hi, if anyone is reading this. And also wanted to show people something interesting in Punishment 37.
THIS IS A SPOILER! DON'T SCROLL DOWN ANYMORE!
SPOILER ALERT!!! READ AT YOUR OWN RISK!!!
ok so i looked through Punishent 37 and saw something that really caught my eyes. Since, I don't read Japanese, I could only see the images. And the thing that caught my eye was Anis's mother! Aya Shouoto finally draws and shows Anis's mother! I think it's a flashback of Schwartz, and when he met first met Anis's mother.
Here is a picture of her: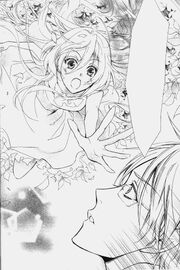 P.S - This is not Anis, this is her mother. When she first met Schwartz.
P.S.S. - I made some edits to the picture.